FOR FIRST RESPONDERS & VETERANS
2022 ROOF GIVEAWAY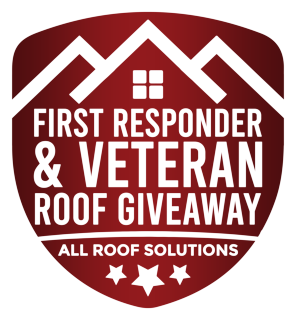 All Roof Solutions, Inc. has been serving Cobb County and the surrounding area since 2006. Our team is devoted to making a difference in the local community and we believe building a stronger community starts with helping those in need; therefore, we would like to give back to one of the many deserving local heroes by providing him/her with a free roof on November 11, 2022.
In partnership with Beacon and GAF, we are asking you to help us put a new roof over someone's head. To nominate a deserving Veteran and/or First Responder, please provide a submission on behalf of your nominee with a brief explanation as to why you are choosing this local hero for the free roof giveaway.
The rules of the contest are simple. All nominees must be active or retired Military / First Responders, be willing to share their story, and of course, they must be willing to let us install a new roof on their home.

How to Nominate
a Local Hero
Consider a local hero you know who needs a new roof.
2.
TAKE PHOTOS
OF THE HOME
All submissions must include two (2) photos of the home.
3.
COMPLETE THE
NOMINATION FORM
Submit the nomination form. Be sure to explain what makes this individual your local hero and how they would benefit from a FREE roof.
NOMINATION PERIOD
JUNE 1 - OCT 21
VOTING PERIOD
OCT 24 - OCT 28
WINNER ANNOUNCED
NOVEMBER 11
Once the entry period has ended, we will open the submissions to a public vote that will determine the top candidates. From there, the owners and veterans employed by All Roof Solutions, Inc. and All Restoration Solutions, LLC will select the grand prize winner, which will be announced on November 11, 2022.
Contest Rules & Overview
NO PURCHASE OR PAYMENT OF ANY KIND IS NECESSARY TO WIN
To enter, complete all portions of the 2022 All Roof Solutions Roof Giveaway. No elaborate story is necessary, the fact that you/your nominees served our country and/or community is enough of a story for us.

Nomination Period: June 1, 2022 - October 21, 2022
Voting Period: October 24, 2021 - October 28, 2022
Winner Announced: November 11, 2021

RULES

Applications will only be considered if they are complete and submitted with full details. The recipient of the 2022 All Roof Solutions Veteran / First Responder Roof Giveaway will be announced on November 11, 2022.
You may nominate yourself, but all criteria of the contest must be met.

Nominees must own and live in the residence that will receive the new roof.

The giveaway is open to a Veteran / First Responder of the age of minority living within All Roof Solution's service area.

Identification must be provided on request.

Employees of All Roof Solutions, Inc., advertising and promotional agencies, and their affiliates (ex: immediate family) are excluded from this giveaway.

The prize is not redeemable in cash and must be accepted as awarded.

All nominees will be contacted and required to sign a release waiver before they will be considered for the competition.

All materials sent (including photos, videos, and testimonies) will become the property of All Roof Solutions, Inc. and will not be returned to you.

All submissions must include two (2) photos of the home.

All Roof Solutions, Inc. is not responsible for any expenses incurred during the application process. All costs associated with postage, shipping, and material preparations are the applicants' sole responsibility.

In accepting the roof, the recipient acknowledges that All Roof Solutions, Inc. may not be held liable for any loss, damages, or injury associated with accepting this roof.

Recipients at the age of majority must sign a release form as prepared by All Roof Solutions, Inc. acknowledging their acceptance and understanding of ALL the giveaway requirements.

All Roof Solutions, Inc. retains the rights to make substitutions of equivalent materials or approximate value in the event of the unavailability of any materials for any reason whatsoever.

The selected recipient will receive one residential roof replacement from All Roof Solutions, Inc.

Homeowners who have filed previous insurance claims for roof repair will not be eligible.

All prizes are non-transferable.

All decisions of All Roof Solutions, Inc. are final and not subject to inquiry - no substitutions will be made.