INDUSTRY-BEST WARRANTIES
WE STAND BEHIND
OUR WORK
GAF Golden Pledge
Roof Warranty
FROM INSPECTION TO
DECADES OF PEACE OF MIND
Our GAF Golden Pledge Roof Warranty Means Confidence. Less than 3% of roofing contractors in metro Atlanta can offer this exclusive warranty.

Our Master Elite Status with GAF guarantees our impeccable installation techniques and consistently happy customers. The GAF Golden Pledge Warranty furnishes a lifetime material warranty and a 25 year workmanship guarantee. With every GAF Golden Pledge Warranty, you will receive a thorough inspection from a GAF technical representative to ensure all required specifications were met.
All Roof's Tried & True System
THERE'S MORE TO YOUR ROOF THAN SHINGLES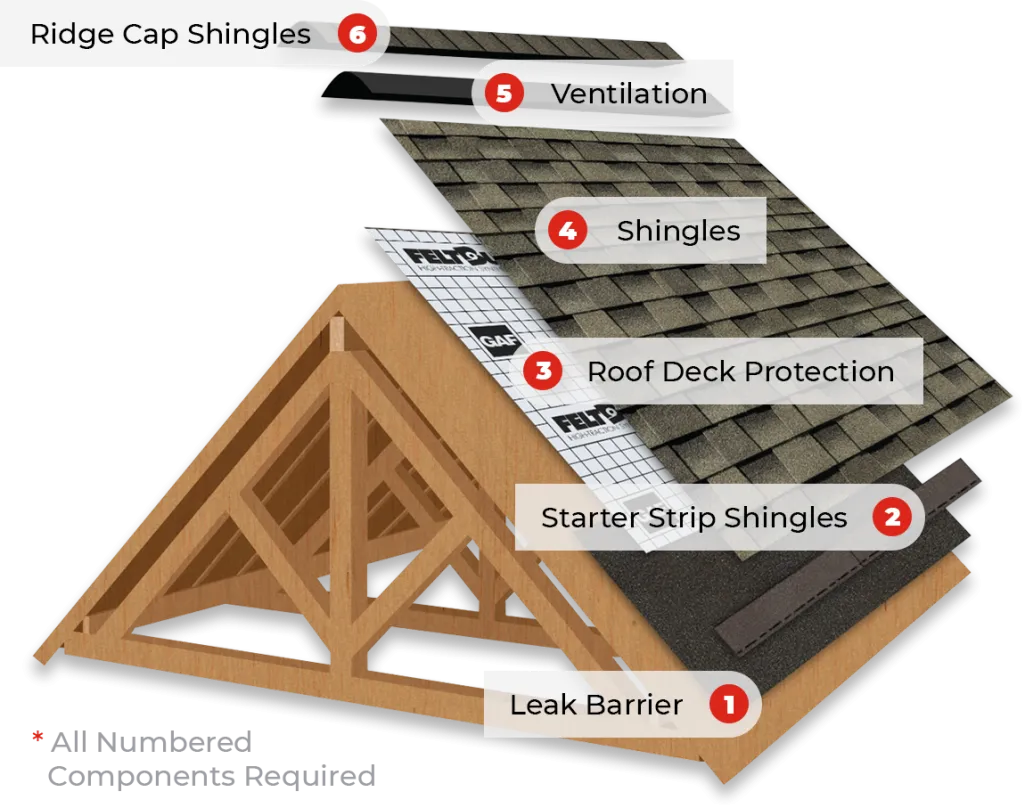 The Golden Pledge Limited Warranty
The strongest warranty we offer! The Golden Pledge is directly backed by GAF and the warranty can be transferred when the house is sold and passed on to a new homeowner.
50 Year Material Defect Warranty
Non-prorated coverage for the first 50 years on the entire roofing system for manufacturer defects.
25 Year Workmanship Warranty
Workmanship coverage for 25 years and backed by GAF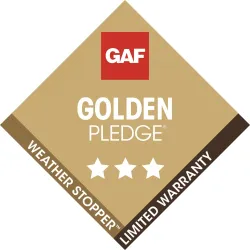 Competitors Shingles Warranties
All Roof Warranty Solutions
Manufacturing Defect Coverage for Lifetime of Shingles?
Overall Coverage Period
Lifetime

Lifetime
Upfront (100%) Coverage Period
Only 10 Years
50 Years
Cover Roofing System (not just shingles)
No
Yes
Cost of Installation Covered?
Only 10 Years
Lifetime
Workmanship Coverage for Lifetime of Shingles?
100% Coverage Period
Only 2 Years
25 Years
Misapplication of certain flashings covered?
Only 2 Years
25 Years
Does the roofing job include a 40-point factory inspection of completed roof?
No
Yes
Contractor Factory Certified?
No
Yes
Tear-off Costs Included (when necessary)?
No
Yes
Disposal Costs Included (when necessary)?
No
Yes
Warranty Transferable for Free?
Maybe
Yes
Good Housekeeping Protection on Roofing System?
No
Yes
A SUPERIOR WARRANTY
WITHOUT QUESTION
WHAT MAKES THE GAF GOLDEN PLEDGE WARRANTY SUPERIOR?
Products and warranties are the only ones backed by Good Housekeeping Seal of Approval
Largest and oldest manufacturer of roofing materials in the world

Only manufacturer to inspect 100% of factory warranty jobs - eliminating any warranty wiggle room

Other manufacturers offer similar warranties. With GAF, the initial inspection ensures that a warranty claim will not be denied.